Lodi Point Flash Flood Clean-up, Lodi, New York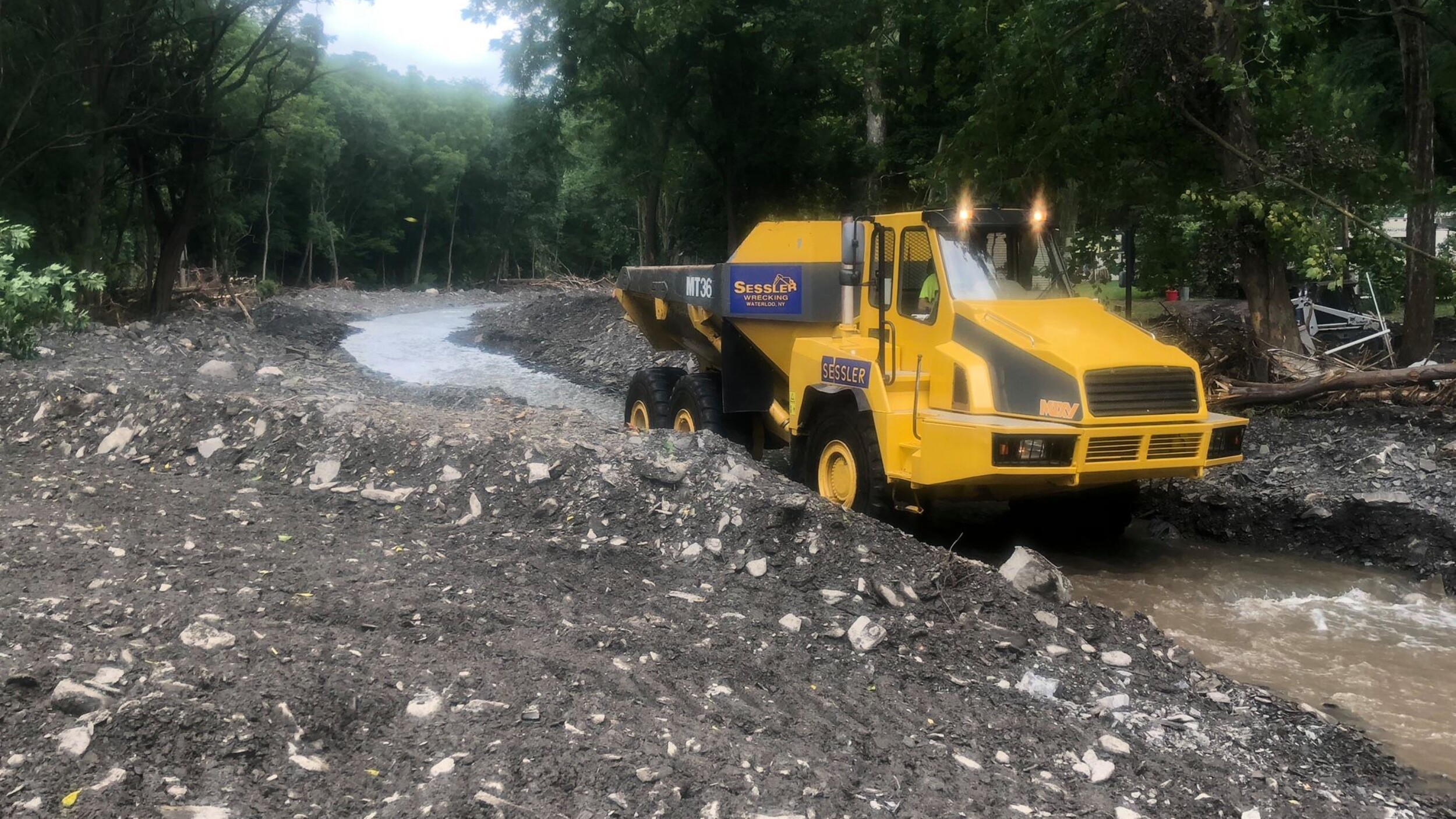 Seneca County Emergency Clean-up & Restoration – Lodi, NY
Sessler Wrecking has responded quickly to many emergency clean-up and restoration calls due to natural disasters—Hurricane Sandy and Irene, and the 2014 blizzard in Buffalo, NY, to name a few.  Unfortunately, disaster struck in the backyard of Sessler in 2018 when a flood destroyed portions of the Town of Lodi in Seneca County.
Within an hour of receiving the call from Seneca County Emergency Management, Sessler had crews and heavy equipment onsite at Lodi Point to assist with the disaster clean-up, restoration, and relief. Sessler crews mobilized working tirelessly, day and night, through weekends and holidays for weeks on the clean-up effort.
Utilizing the combined forces of Sessler Wrecking and Sessler Environmental Services, we performed water services, removing debris from Seneca Lake with our barges and push boats, and inland restoration of streams, ditches, and debris removal at Lodi Point. Excavators, ranging in size from 10 to 40 tons with various attachments were utilized for debris removal on land and in water off our barges. Several bulldozers and our fleet for tractor trailers assisted with the transportation of material to be recycled off-site, the trees and branches were recycled into mulch.
Sessler Wrecking has made it a part of our services to work closely with all local communities and emergency contract holders to ensure them that we are always available when disaster strikes unexpectedly, and that they can count on our team to be there when needed.
We have the experience to solve your marine services challenges.