Lodi Point Flash Flood Clean-up, Lodi, New York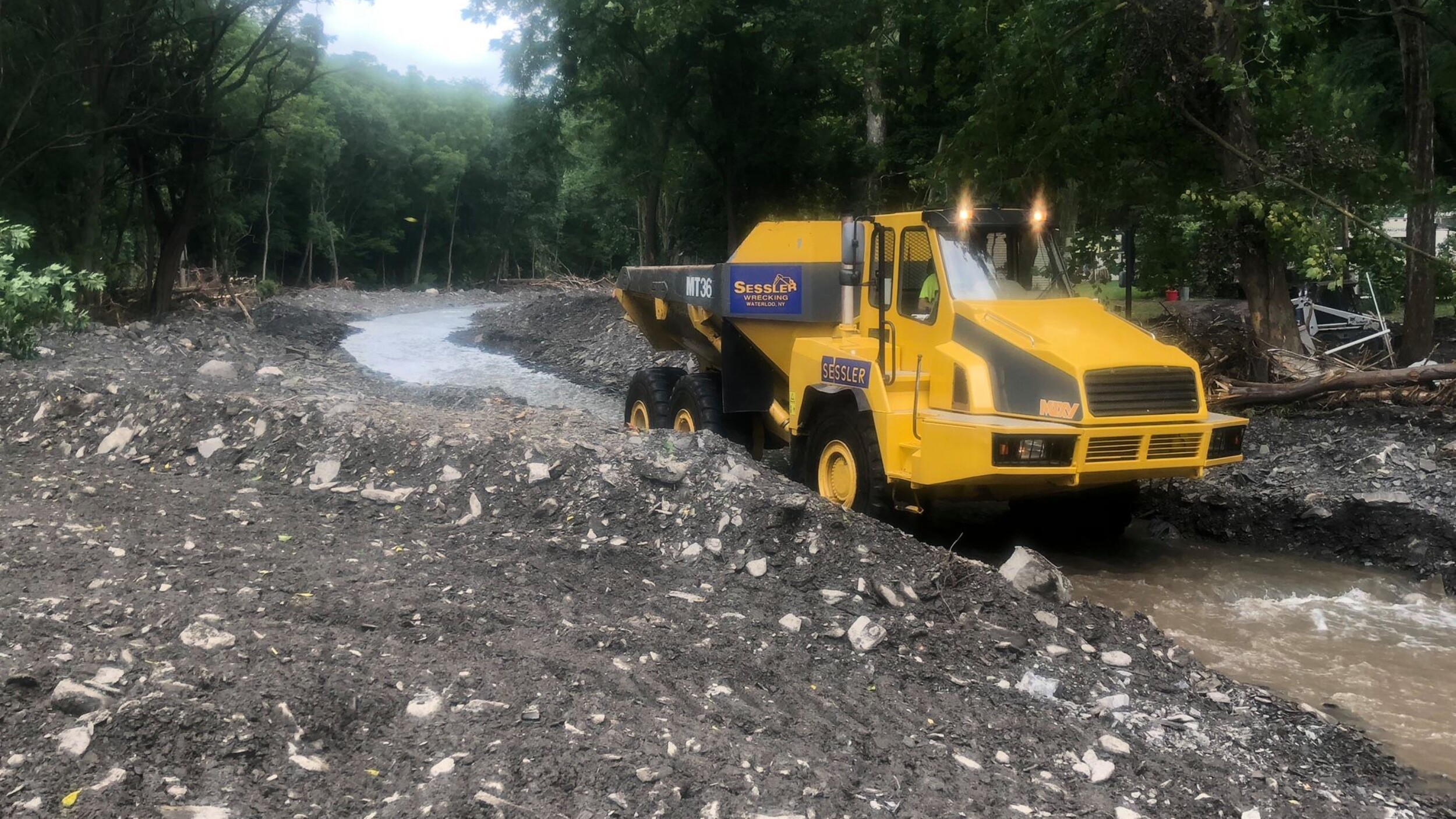 Seneca County Emergency Clean-up & Restoration – Lodi, NY
Sessler Wrecking has been called upon in the past for natural disaster clean-up and restoration projects, more recently in response to Hurricanes Irene and Sandy and the November 2014 blizzard in Buffalo, NY. Although never in our backyard and to the magnitude of the flooding events this August in south Seneca County.
Within an hour of receiving the call from Seneca County Emergency Management, Sessler had crews and heavy equipment onsite at Lodi Point to assist with the disaster clean-up, restoration, and relief. Sessler crews mobilized working tirelessly, day and night, through weekends and holidays for weeks on the clean-up effort.
Utilizing the combined forces of Sessler Wrecking and Sessler Environmental Services, we performed water services, removing debris from Seneca Lake with our barges and push boats, and inland restoration of streams, ditches, and debris removal at Lodi Point. Excavators, ranging in size from 10 to 40 tons with various attachments were utilized for debris removal on land and in water off our barges. Several bulldozers and our fleet for tractor trailers assisted with the transportation of material to be recycled off-site, the trees and branches were recycled into mulch.
Sessler Wrecking and Sessler Environmental Services would like to thank the amazing partners we worked with throughout the late summer and fall to assist our neighbors in Seneca County. Federal, State, and local officials, first responders, and our colleagues in the contracting business came together to work as one cohesive force.
Most importantly, Sessler would like to thank all the volunteers and local residents that were resilient through this disaster, working day and night, and were patient with our clean-up efforts. It was with a heavy heart to see the destruction caused by the flooding this summer in south Seneca County. Although with that tragedy the strength and resolve of our community came forward.
We have the experience to solve your marine services challenges.