About Sessler Wrecking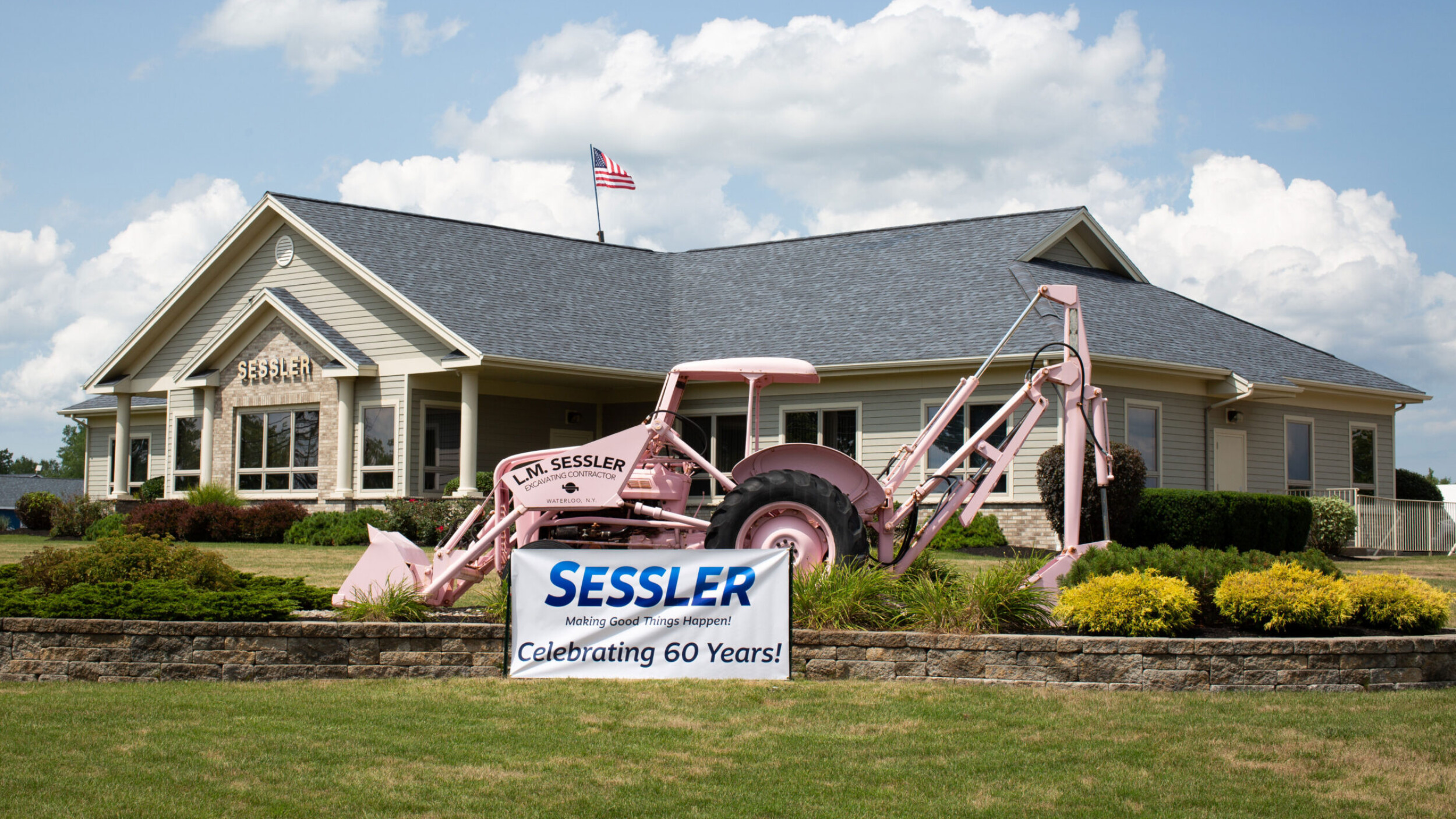 Sessler Wrecking offers Turn-key solutions for all your demolition needs.
Storied History
Using a 1952 Ford 8-N tractor, equipped with a loader and backhoe, what started as a side business, L.M. Sessler Excavating Contractor, for Vern and Barb Sessler in 1958, Sessler Wrecking has grown into one of the nation's largest demolition firms. To draw attention to their new business in the late 1950s, Vern and Barb painted their backhoe pink with black lettering. The symbolic pink backhoe sits in front of the Sessler headquarters in Waterloo, NY to this day.
Through the following decades, Sessler Wrecking gained the reputation of being an honest, innovative, and hardworking demolition contractor that would take on some of the most difficult and challenging demolition jobs in the nation. Through the 1970s, the company grew with New York State urban renewal projects and disaster relief cleanup as a result of Hurricane Agnes. The demolition projects that put Sessler Wrecking on the map in the 1980s were the American LaFrance Fire Engine Factory in Elmira, NY and the Franklin Motor Car Factory in Syracuse, NY. Moving into the 1990s and utilizing patented technology, Sessler Wrecking became the Northeast's largest bridge demolition contractor.
In the 2000s, Sessler Wrecking continued to grow and diversify into new markets and geographical regions–performing some of the most technically challenging bridge demolition jobs in recent memory, such as the Tappan Zee Bridge, RFK Bridge, and Verrazano Bridge in NYC. As Sessler Wrecking grew, the company's ability to perform complex and large-scale industrial demolition and building demolition projects opened the doors to jobs such as the Kodak and GM Fiero Power Plant implosions—stretching from Rochester, NY to Pontiac, MI.
Today, keeping with Vern Sr.'s vision, Sessler Wrecking is a multi-generational, family owned and operated company, with over 60 years of experience, that allows the company to perform the largest and most technical demolition jobs in the country.
Mission Statement
We will continue our commitment to developing technologies and innovative demolition techniques and processes that improve efficiency and safety.
Sessler will continue to focus on customer needs and total satisfaction by constantly providing the highest quality work.
We will continue to expand our business while maintaining our versatility and flexibility in successfully managing the most challenging demolition projects
As the president of a mid-size contracting company I know the everyday problems of making the right things happen in today's regulated world. No one person can possibly keep up with the requirements and technology of these ever changing times. When you have a demolition project, we can help in resolving the related problems. We would appreciate the opportunity to provide a quote for your next project, and possibly offer some time, safety, and money saving ideas. Sessler is proud to offer your organization the best and safest building, bridge and industrial demolition services available in this part of the country. Thank you.

– Vern Sessler, Sr., Our Father, Company Founder, 1938-2005