Sessler Wrecking Announces New Website
Waterloo, New York; May 25, 2021: Sessler Wrecking, one of the nation's largest specialty contractors, is pleased to announce the launch of their newly designed website: SesslerWrecking.com.
Founded in 1958, Sessler Wrecking is a WBE certified, generational family owned and operated demolition firm, who has continually grown over the decades to adapt to evolving technology and demolition techniques, establishing themselves as one of the nation's most versatile contractors.
The Sessler Wrecking website has received major design and informational updates to help position Sessler Wrecking's online presence at the top. Major updates to the site include a completely redesigned interface with interactive elements and easily accessible information, a robust demolition project profile section showcasing Sessler Wrecking's work, a company leadership page highlighting the management team, and an interactive company history timeline which tells stories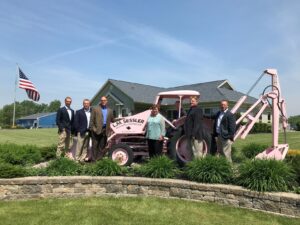 of the early days and celebrates major milestones.
Other key updates are a newsroom which promotes Sessler Wrecking's social media campaign "Wrecking Wednesdays" as well as a community engagement section to highlight the organizations that Sessler Wrecking is proud to partner with.
"Here at Sessler Wrecking, we are continuing to incorporate innovative forms of marketing materials surrounding the presence of our newly designed site, which helps better position ourselves in a digitally run world," explains Bruce Sherman, Director of Business Development & Marketing. "This is one of the last pieces of the puzzle to continue growing our footprint as one of the nation's premier demolition contractors, and we're excited to showcase the completion."
Sessler Wrecking has been "Making Good Things Happen Since 1958!" and is eager to continue landing high profile jobs that incorporate the use of their inhouse engineering team, professional field staff, and state-of the-art equipment fleet to ensure these projects are completed safely, on- time, and within budget.
CONTACT:
Bruce D. Sherman, Director of Business Development & Marketing
Sessler Companies 315.539.3353
bsherman@sesslercompanies.com SesslerWrecking.com
« More news