Creating a Clean and Clear Space for an Advanced Medical Campus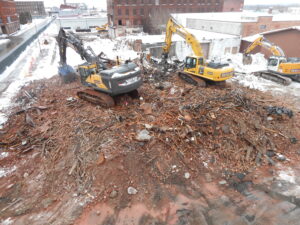 October 12-19, 2020
Clearing structures, utilities and regulated materials on a 25-acre multi- parcel site amid a diverse and active city population is no easy or straight- forward process—but it was the critical first phase of the new medical center campus in Utica, N.Y., for Mohawk Valley Health System (MVHS). The $480-million project will include a new 373-bed, 672,000-sq-ft, 9-story hospital, central utility plant and parking garage. Designed as an urban park with enhanced lighting, trees, flowers, walkways and seating areas, the pedestrian-oriented campus will promote the health of patients, optimize the work environment for caregivers and serve as a catalyst for the revitalization of downtown Utica.
For generational family-owned and operated demolition, remediation and site preparation company, Sessler Wrecking, it was a unique opportunity to demonstrate its extensive experience and expertise in setting the foundation for the success of this campus. Sessler was up to the task of spearheading  Phase I of this project with a comprehensive site preparation program for one of the Northeast's highest-profile health care projects.
Setting Protocols
Working closely with MVHS's owner representative Hammes Co., the construction manager Gilbane Building Co., and the necessary federal, state and local health and environmental agencies, Sessler developed a turnkey remediation and demolition plan. This plan captured the project goals of eliminating safety hazards to the workers as well as the surrounding community, while completing the project under  condensed scheduling constraints.
Sessler was required to remove regulated materials and demolish multiple structures, often simultaneously, throughout the six-month duration of the project. Sessler coordinated with multiple governmental agencies and contractors to develop a comprehensive work plan that implemented dedicated onsite safety officers, various levels of project management, supervisors and foreman to oversee a workforce of approximately 25–50 people on average throughout the life cycle of the project.
The overall Site-Specific Health & Safety Plan (SSHASP) provided means and methods to protect the community and onsite workers. Sessler utilized administrative and engineering controls to change the way people worked and isolate them from hazardous conditions. This included the use of proper personnel protective equipment, onsite worker tracking, warning signage, task rotation, implementation of a worker buddy system, onsite and offsite traffic- control measures, erosion and sediment control, dust and noise control, as well as various material sampling procedures to document known or suspect regulated materials that were transported offsite to regulated disposal facilities.
Using numerous pieces of equipment from its state-of-the-art fleet, Sessler performed work with its high-reach demolition excavators, standard demolition excavators, dozers, loaders and rollers. Material crushers, conveyors and various specialty material processing attachments, such as shears, grapples and hammers, were brought in to reduce the volume of material sent offsite to landfills for regulated disposal.
Site Ready
According to the Sessler team, one of the reasons for the success of this phase was the dedication and efficient communication of all parties involved with the project, including MVHS, Hammes Co., Gilbane Building Co., the New York State Dept. of Labor, the City of Utica and various local subcontractors that safely and efficiently implemented project deliverables.
The City of Utica agreed, and it sent an acknowledgement letter to Sessler stating its appreciation for the well-executed and clean completion of the Phase I Site Demolition and Abatement Work. Due the collaborative approached during Phase I, the transformative MVHS Utica Medical Campus construction is on track for completion in 2022.
« More news